What Process Is Used to Make PVC Pipes?
Views:280 Author:Site Editor Publish Time: 2019-11-30 Origin:Site
The PVC pipe production line is mainly made of PVC (polyvinyl chloride) as the main raw material to produce various PVC pipes. Because it has strong corrosion resistance and fire resistance and heat resistance. PVC pipe (UPVC hard poly recording vinyl pipe) is widely used as water pipes, supply pipes and drainage pipes for construction, cable protection pipes, etc.
As one of the most common plastic pipe equipments, PVC pipe equipment mainly consists of extruder, mould, vacuum tank, haul-off unit, cutter and stacker. Through the mixing system, the various raw materials required for the pipe are gradually and uniformly mixed by hot mixing, cold mixing, etc. Then it will be blown into the dry silo for use. The roots blower draws the material into the lower hopper of the main machine. Through SZY parallel twin screw and other feeding methods, the metering method is adopted. The material is fed into the extruder by gravity, while the material is in the extruder.. Through the shearing of the screw and the action of external heat, the average plasticization enters the head of the extruder, the material is given a certain shape in the handpiece, and further plasticized and leaves the extruder.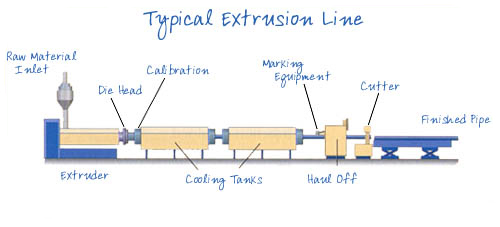 PVC pipe production process:
1. Raw material preparation (PVC and plastic additives)
2. Open the mixer and mix and feed
3. Forced feeding
4. Using a conical twin-screw extruder
5. Using an extrusion die
6. Calibration unit
7. Enter the spray vacuum calibration tank
8. Go through immersion cooling water tank
9. Ink jet or laser printer (can be selected as needed)
10. Cut with the crawler tractor
11. Cut by a knife cutter
12. Place the finished product on the pipe stacker
13. Final product inspection packaging
During the process of PVC pipe production, many factors must be considered. The shaping of PVC pipe can be carried out by two methods of internal pressure and vacuum sizing.